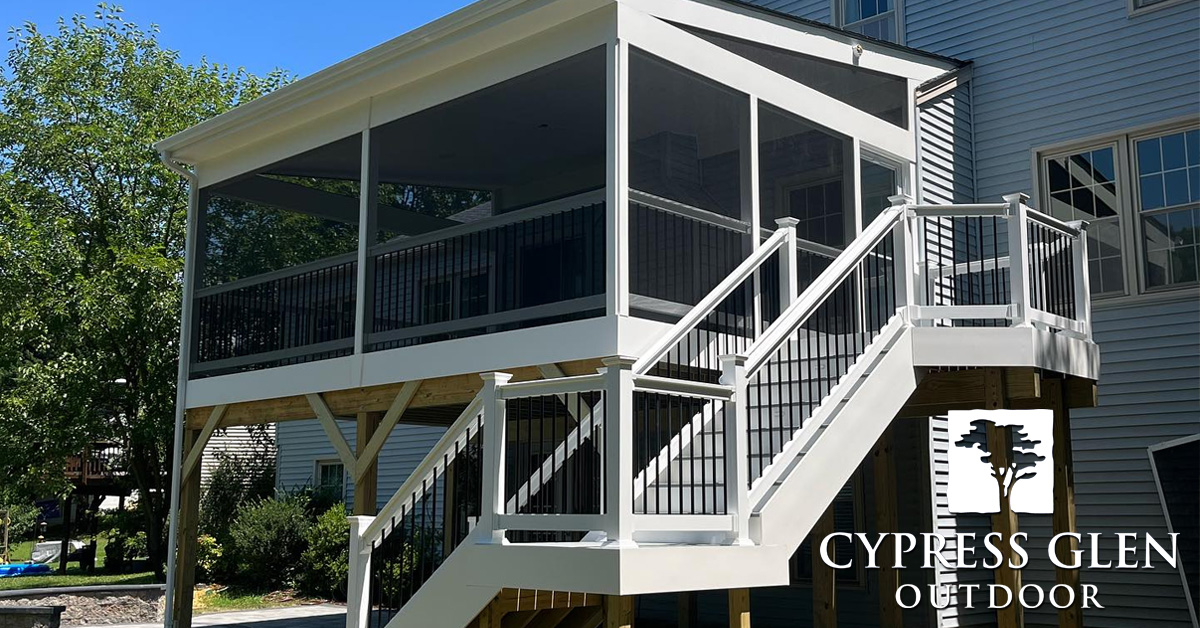 Screened Porches are a home improvement that will elevate your entertainment space and add to your home's value. Everyone will be able to enjoy your screened porch, deck or patio when inclement weather would typically be a deterrent. Roofed and screened porches keep pesky bugs out while allowing the air to flow freely. Up your game and add glass windows for a year-round, easily accessible room your whole family will enjoy. Cypress Glen Outdoors has the experience and creativity to bring your outdoor area to life!
Screened Porches or Screened Patio Benefits
People rate outdoor entertainment as one of summer's most enjoyable experiences. The grill is hot, the drinks are cold, and the smiles are plentiful. Serving the food is where the tricky part comes in. No one likes to see various bugs landing on a food platter before digging in. Screened Porches keep the entertainment area clear of yard debris, and leave the pests outside where they belong. There is less maintenance due to the lack of intense sun, heavy winds, and snow. You won't need to reseal your wood deck as frequently, and it will last longer.
No more lugging in heavy outdoor furniture when the weather turns cold. You can leave the furniture and cushions in place, ending the annual search for storage. The cushions will last longer away from the elements, and you won't have to bring them in during rainstorms. No one wants to sit on a wet cushion; once you have, it's too late! Screened Porches eliminate this worry
Customize Your Screened Porch, Deck Or Patio
You'll want the enclosure of the deck to complement your house in color and style. Finishes are where you can let your individuality shine through. Cambridge Pavers and Trex Decking provide multiple designs, textures and finishes. Furniture, cushions, plants, and lighting present opportunities to showcase your decorating personality. Benches are a great way to include permanent places for seating unexpected guests. Wide railings help hold serving dishes, plates, drinks, and houseplants.
You can save some money by utilizing existing features when it makes sense. If your new deck is attached to your home, turn a current exterior window into a pass-through shelf. Serving will be more straightforward, and your doorway will have less traffic. Enclosing the deck with windows and screens will give you year-round access to your new entertainment room.
Choosing Lighting Fixtures for Your Screened Porches
What kind of lighting do you like? You'll find endless options, from strands of fairy lights to conventional fixtures. Consider choosing conservative lighting that will hold its resale value for this part of your remodel. Leave the wild or unusual decorating to the cushions, window coverings, or other easily replaced items. Containers for houseplants, throw rugs, and table runners are just a few examples of inexpensive decorations.
Screened Porches are a great way to amp up your entertainment level and living space. Enclosing a patio or deck costs money upfront but saves money on maintenance. The options may seem endless and overwhelming. There are many pieces to this puzzle to accommodate different budgets. Let Cypress Glen Outdoor build the backyard you've been dreaming of.
High Quality Pavers and Decking