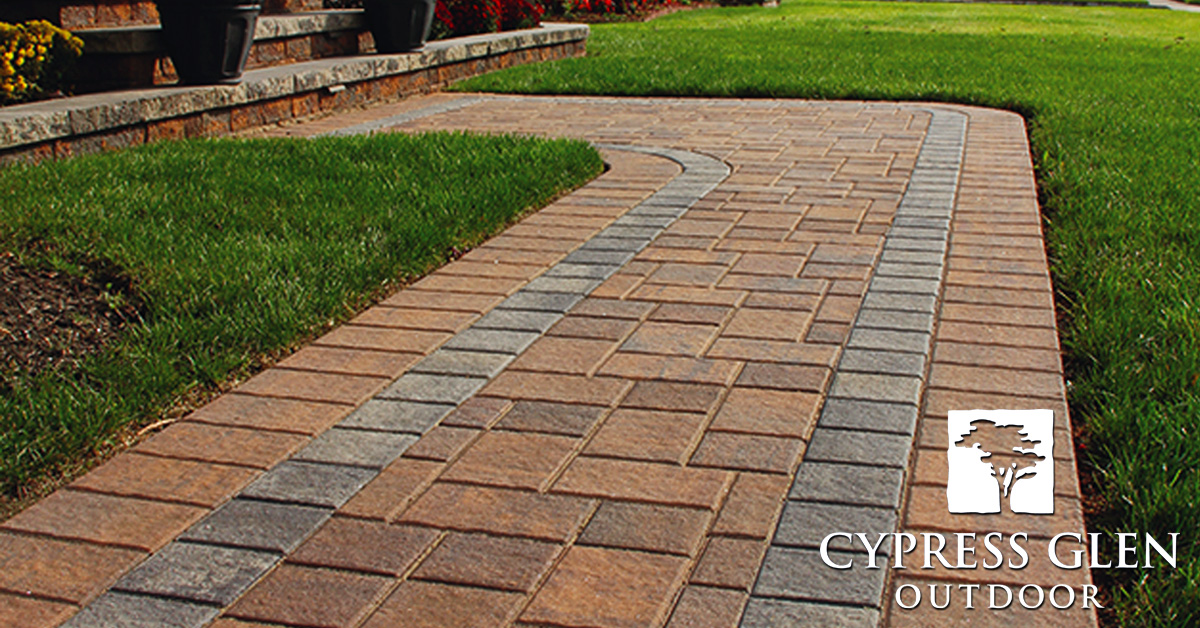 Interlocking paver walkways are a great way to add pizzazz to your landscape. Walkways around your home are practical and add curb appeal. Cambridge interlocking pavers come in different shapes and colors to suit everyone's style. Interlocking pavers are slightly more expensive than asphalt or concrete but more durable and attractive. You'll find that pavers provide better traction after a rainstorm, adding safety to the list of benefits. Cypress Glen Outdoor can build the interlocking paver walkway you've been dreaming of.
Benefits of Interlocking Paver Walkways
Interlocking pavers come with many benefits that outweigh asphalt or concrete. Pavers are durable and highly weather-resistant, making them a good choice for residential and commercial projects. Cambridge Pavers with ArmorTec are made with environmentally friendly raw materials, super fine sand granules, and cement of the highest quality. The Cambridge interlocking paver is more dense, will last longer, with less wear, and sand erosion. Interlocking paver walkways take less time to install than other options, and you can walk on them immediately after installation.
You won't need to reseal pavers as compared to the messy resealing process that asphalt surfaces require every few years. And, if a paver cracks, they are easy to replace. An interlocking paver walkway has a 30-year life expectancy. Cracked concrete is expensive to repair and never looks the same. Interlocking paver walkways are hard to beat, which makes the benefits outweigh the cost difference in the long run.
Installation Of Interlocking Paver Walkways
The installation of interlocking paver walkways isn't highly technical or dangerous. However, you should consider professional installation because they'll loosen over time if you don't install them properly. A professional knows the gap necessary to accommodate your region's freeze-thaw extremes. The installation is much faster than concrete or asphalt walkways and is ready for use immediately. When you add some walkway lighting, you've substantially upped the curb appeal of your landscape.
Are Pavers Environmentally Friendly?
Pavers are an excellent choice for an environmentally friendly project. We all must consider the environmental impact of products we buy and use inside and outside our homes. Gaps between the pavers reduce the damage due to water runoff compared to asphalt and concrete surfaces. Pavers have a porous surface. They naturally act as a filter, helping process heavy metals and oils harmful to the soil. The 30-year lifespan helps reduce debris in our landfills, and that's a win-win for everybody.
Maintenance For Interlocking Paver Walkways
The maintenance you must consider for interlocking paver walkways is less expensive and time-consuming than their counterparts. Soft washing removes debris and stains that build up every few years. Soft washing can be fun, but your nearby delicate plants won't think so. Grab a tarp and cover nearby plants as you go to protect them.
You'll need to replenish sand in the cracks by sweeping polymeric sand in with a broom to fill the gaps. Water activates the binder in polymeric sand and forms a flexible yet strong bond. Set your water hose to mist and gently water in the sand. When the sand settles in, you can add more to areas that need it. After you do the final mist, you're set for maintenance, and the sand is even.
Safety Considerations
Safety inside and outside of our homes is vital. Interlocking pavers are excellent for non-slip and non-skid surfaces for walkways, driveways, and pool decks. When a professional installs the pavers, the smooth surface makes snow removal a breeze. Interlocking paver walkways are not a slip hazard when wet.
Interlocking paver walkways are a fantastic way to make your landscaping more appealing. They are beautiful, practical, and good for the environment, and you can install them any time of the year. Let Cypress Glen Outdoor build the backyard you've been dreaming of.
High Quality Pavers and Decking