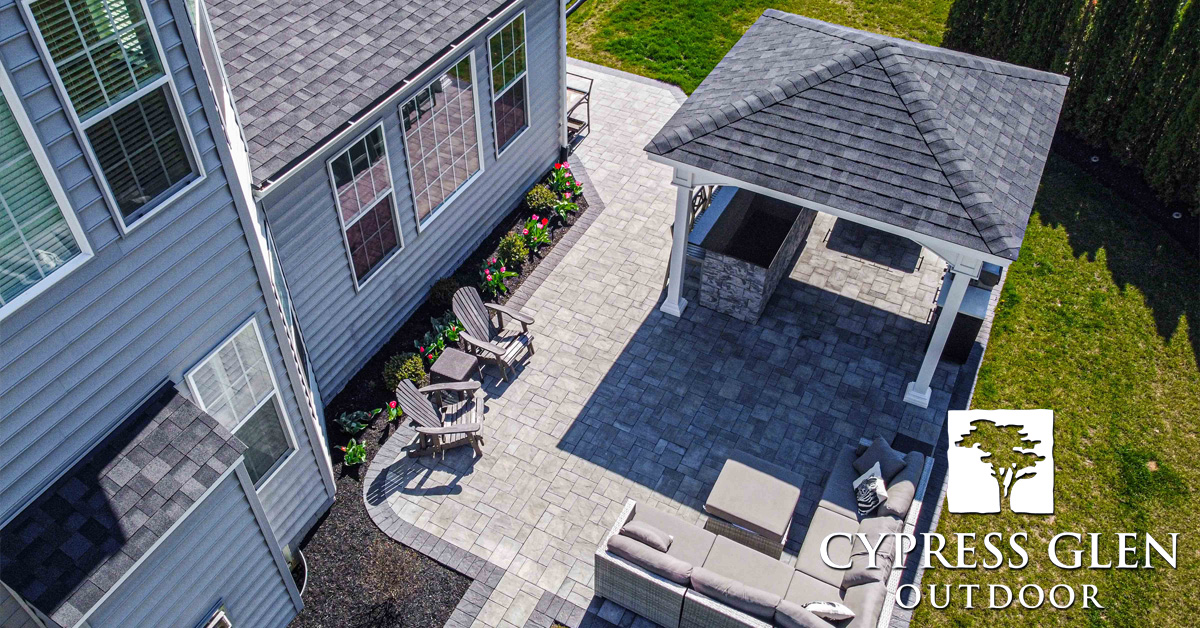 If you're looking for a custom, unique design to dress up the exterior of your home, think of a custom interlocking paver patios. Cypress Glen Outdoor has decades of experience designing and executing plans to elevate your home's outdoor living space. Do you already have ideas in mind? We can make your vision for your new outdoor entertainment area come to life. Are you finding the choices overwhelming when adding new elements to an existing landscape? Let Cypress Glen Outdoor build you the paver patio you've been dreaming of. Typically, we use Nicolock or Cambridge pavers for a gorgeous look and increased durability.

Paver Patios
Paver patios serve as an open canvas for your entertainment of choice. Add patio chairs and a barbecue, and you're off to a good start. Paver patios minimize the dirt feet track into your home. They're long-lasting and easily installed.
Paver Patios with Outdoor Kitchens and Bars
Outdoor kitchens and bars are some of the most sought-after exterior additions for summer entertaining. You won't need to shuttle food and drinks to the backyard from inside your home while everyone else relaxes.
Flagstone Patios
Flagstone patios bring a natural element of stone to your outdoor entertainment space. Companies mine different colors of flagstone from all over the world. Complete the patio's perimeter with an accent color for added flair.

Interlocking Paver Patios with Sitting Walls
Sitting walls increase your entertainment area without the hassle of outdoor furniture. The first-rate aesthetic will complement any outdoor living area and make it a breeze to accommodate unexpected guests.
Retaining Walls
Retaining walls are perfect for utilizing the entirety of a sloped property. They can delineate spaces that serve different purposes. Retaining walls make gardening more enjoyable and can be used to highlight an outdoor sculpture.

Custom Paver Patios with Fire Pits & Fire Places
Fire pits have been the rage for years. People enjoy conversation and toasting marshmallows while gazing into the flames. Fire pits keep the embers safely contained for a worry-free evening of outdoor entertaining.

Pergolas
The shady retreat under a pergola can be a welcome reprieve from the hot summer sun. Pergolas are less substantial than gazebos yet still provide a pleasing addition to any garden area. How about a sunroom? We can cover your deck or patio completely.

Interlocking Paver Walkways
First impressions are everything! When guests walk up to your front door, they will be greeted with the beautiful patterns and colors of your paver patio walkway.